My first trip to Paris with my son (May 2019), I took lots of incredible photos as well as videos.
When I got home I began posting reviews of some of the places we visited. Here it is over a year later and I miss Paris more and more each day.
---
In the first week Xavier & I tried to do as much as possible. However, it was already our 2nd week and I still had a ton on our "must do" list.
Our travel & first 9 days are in my posts Longing For Paris, Sacre Bleu le Sacré-Cœur & Greatest Surprise Video EVER! More Amazing Paris Sites, Stunning photos & video, my awesome luxury life in Paris! & Watch the best revolutionary videos of Paris.
---
Here we are Day 10 and I was feeling regal. So OOTD: Diane Von Furstenberg orange sequin skirt, Karen Scott top and cardigan, Mossimo leopard print heels, Vintage Halston silk scarf, Liz Claiborne blue sunhat Michael Kors tote bag, and Prada blue lens/tortoise shell shades.
First stop of the day, an early morning guided tour of Musée d'Orsay. This museum is incredible and houses the largest collection of Impressionist and post-Impressionist masterpieces in the world. For example, Monet, Manet, Degas, Renoir, Cézanne, Seurat, Sisley,
Gauguin, and Van Gogh are all on display.
Sadly, we didn't have time for Le modèle noir de Géricault à Matisse (Black models: from Géricault to Matisse) exhibit **. We only had time to eat lunch in the museum before meeting a group for our next tour.
(review Yelp, Trip Advisor or Google Maps)
**Exhibit on display May 2019, a year before the injustice happening in American (2020). Which makes it even more sad I didn't see the exhibit and get pics.
---
During the wait for our tour group, Xavier and I got some cool pics. Outside the museum in front of the rhino sculpture was a great "Photos of Paris" moment!
Did the boy love the museum?
You tell me, lol!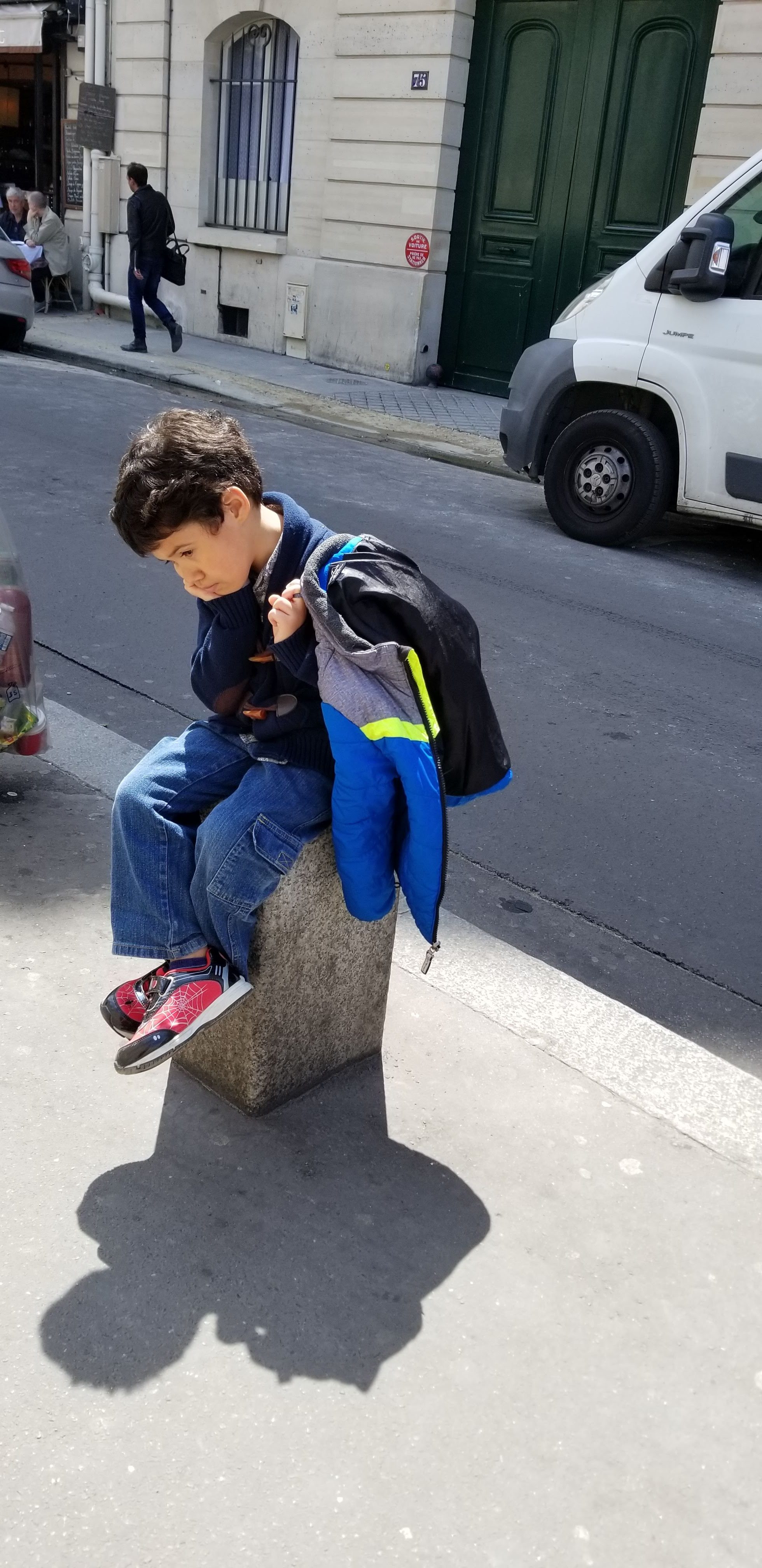 ---
When I booked our tour to Château de Versailles aka Palace of Versailles (Expedia), I missed the part about taking the Paris Métro. Unfortunatley, I was not wearing the proper shoes for this level of walking!
I don't believe I need to say much about Versailles but for those unfamiliar, in a word, SPECTACULAR!!
Firstly, the famous hall of mirrors is famous for a reason, it will blow your mind. However, it is virtually impossible to get a pic without a million people in the shot, LOL!
If pictures are worth a thousand words, then this video will be worth every word ever created!
---
Woah, can't believe we are at Day 11!
At last, the day I re-booked our trip (Expedia) to Monet's House & Garden is here.
** mentioned in post: Watch the best, most revolutionary videos of Paris
Unlike the unfortunate shoe decision I made on the tours to Musée d'Orsay & Château de Versailles, my OOTD was all about flat shoes, lol.
OOTD: Current/Elliott jeans, Tory Burch silk top, Karl Lagerfeld flats and Karen Scott cardigan
During the bus ride through Giverny I captured a more photos of the French countryside, because it was truly breathtaking!
There is a short walk through the sweetest village to get to Claude Monet's House and Garden.
Once you enter the grounds, you immediately note the salmon color of the cottage. Then you are swept into a garden unlike anything you will ever see. Our flawless spring day was the picture-perfect backdrop for the splendor of each flower.
The cottage has many of Monet's famous works and feels more cozy than it looks. You truly get the experience of a French country cottage of the day.
Moreover, this gorgeous cottage is the location where Monet was inspired and painted his famous "Waterlilies" series.
Walking down the steps into the living room/studio, I certainly was surprised how open the paintings were. It was if the legend would return at any moment, pick up a brush and start a new canvas.
On our way out, I ever so gently touched a corner on the side of the canvas in the painting below (left). In addition to the Renoir that hangs in the hallway leading to the master bedroom (right). Shh!!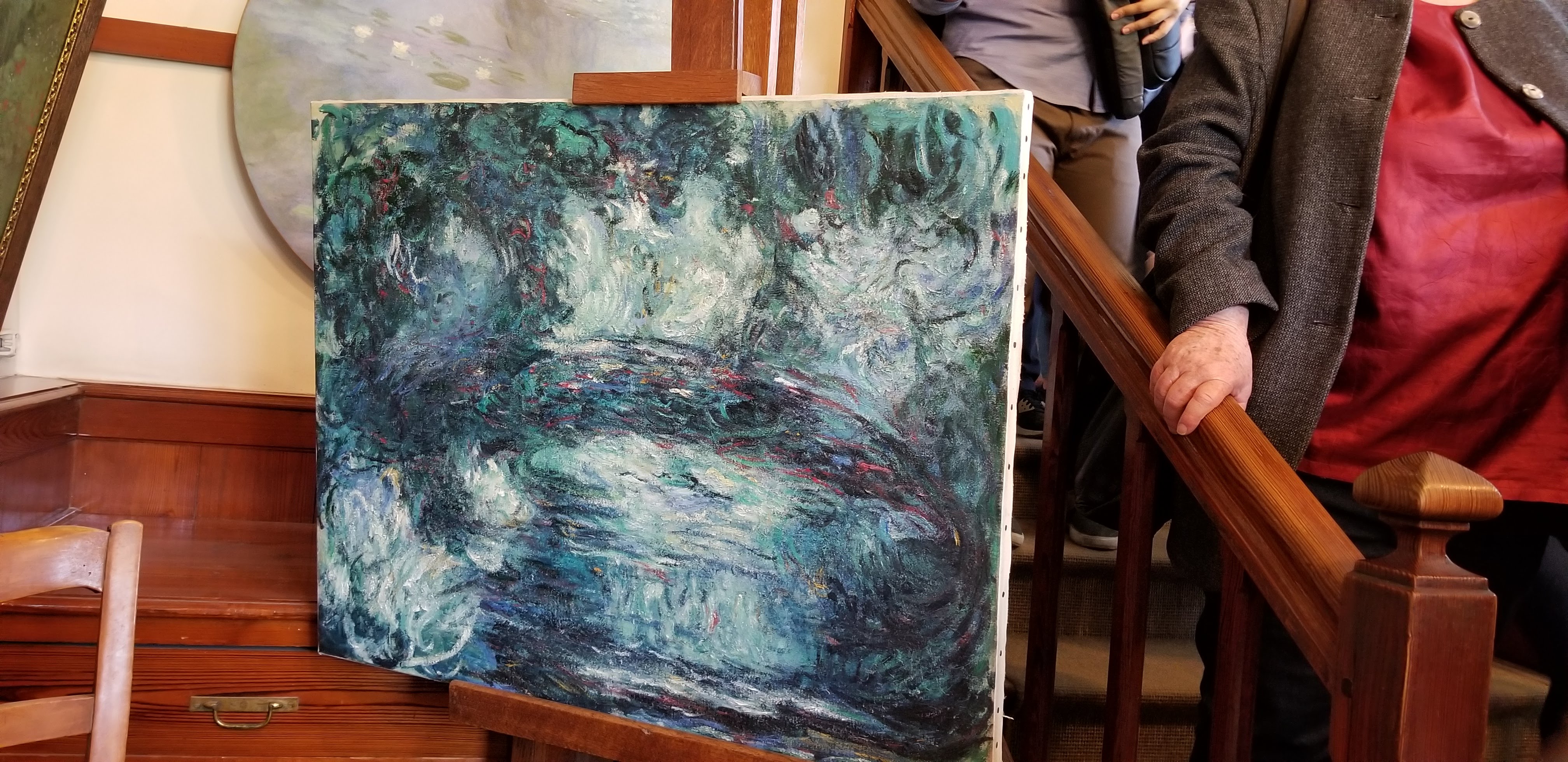 Claude Monet's cottage is home to a collection of more than 200 Japanese ukiyo-e prints (18th and 19th centuries). Works by Kitagawa Utamaro (1753–1806), Katsushika Hokusai (1760–1849) and Utagawa Hiroshige (1797–1858).
(review Trip Advisor or Google Maps)
After the tour, on the bus ride back, I got more photos of Paris since it was just as magical driving in as driving out. See for yourself in the video below.
---
The bus dropped us back at the Paris CityVision Agency just in time for lunch.
So, I pulled out my phone to check Yelp and discovered just a 10-minute walk was La Pascade. I have told people this meal was "death row/last wish" good, LMAO!
(detailed review, including ingredients: Yelp, Trip Advisor or Google Maps)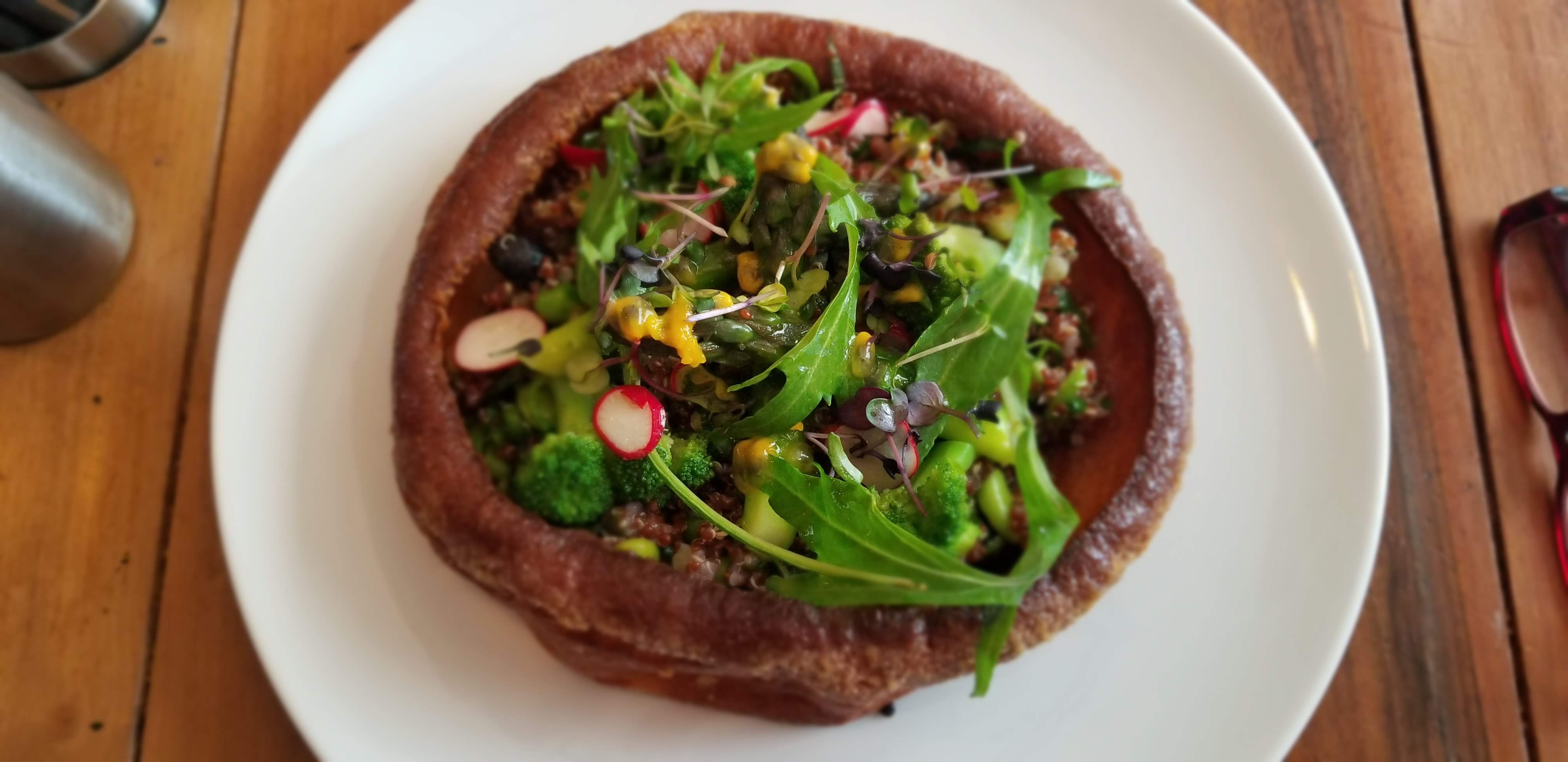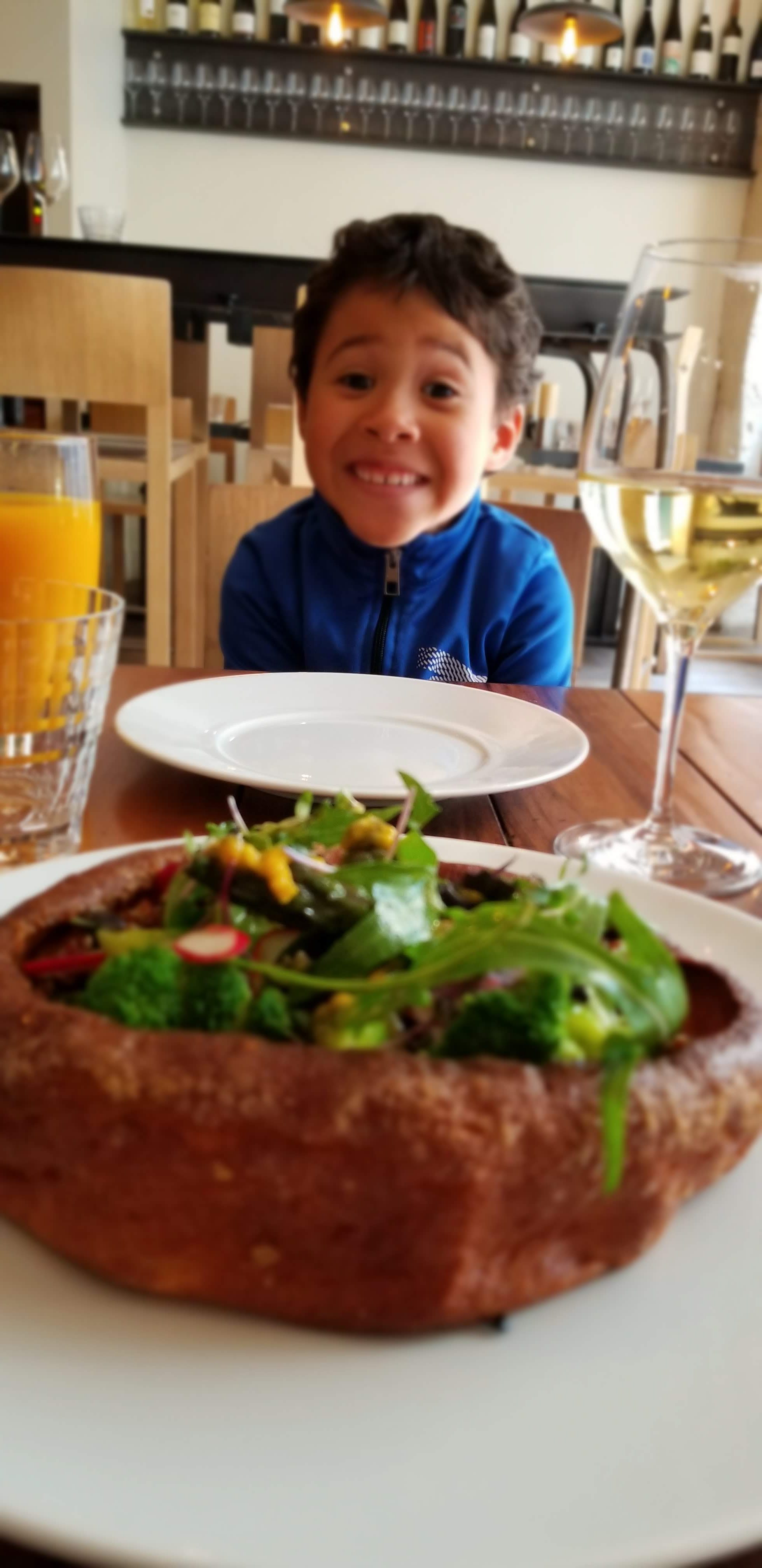 ---
It was still early, and I was in the mood for a bit of luxury shopping. I spent so much money on tours and restaurants that I was ready for retail therapy, Paris style!
Although I used my Google Maps, somehow I got turned around and ended up at Place Vendôme.
Took this opportunity to take more photos of Paris, above all pictures of the famous Ritz Paris hotel. The location where Princess Diana spent her final night before her untimely death, in 1997.
(for BigBus tour see post:Watch the best revolutionary videos of Paris)
---
Once we got our pics, we walked Rue du Faubourg Saint-Honore. The security here is very visible because of the many mulit-million-dollar gated homes and embassies.
(review Trip Advisor)
Xavier and I walked directly to Alexander McQueen, my favorite fashion designer!
I took as many pictures as I could but started getting looks from the sales staff.
Bought a beautiful bracelet in addition to having an incredible experience with the sales lady. Explained to her I named my son Xavier Alexander after "Lee" Alexander McQueen.
** McQueen gets a slide show all to itself!
---
Afterwards, we stopped in a few places & took photos in front of others. Consequently, I made one more purchase at Hermès Paris Faubourg Saint Honoré which was shopping like nothing I had experienced.
(read my review for details Yelp or Google Maps)
---
Next, we took an Uber back to our hotel to rest and later went back to Bourgogne Sud and had the same meal we had on Day 2.
During dinner, we met a lovely American woman eating the best smelling beef bourguignon. She had been to Bourgogne Sud before and according to her it's the best beef bourguignon in all of Paris!
(review Yelp, Trip Advisor or Google Maps)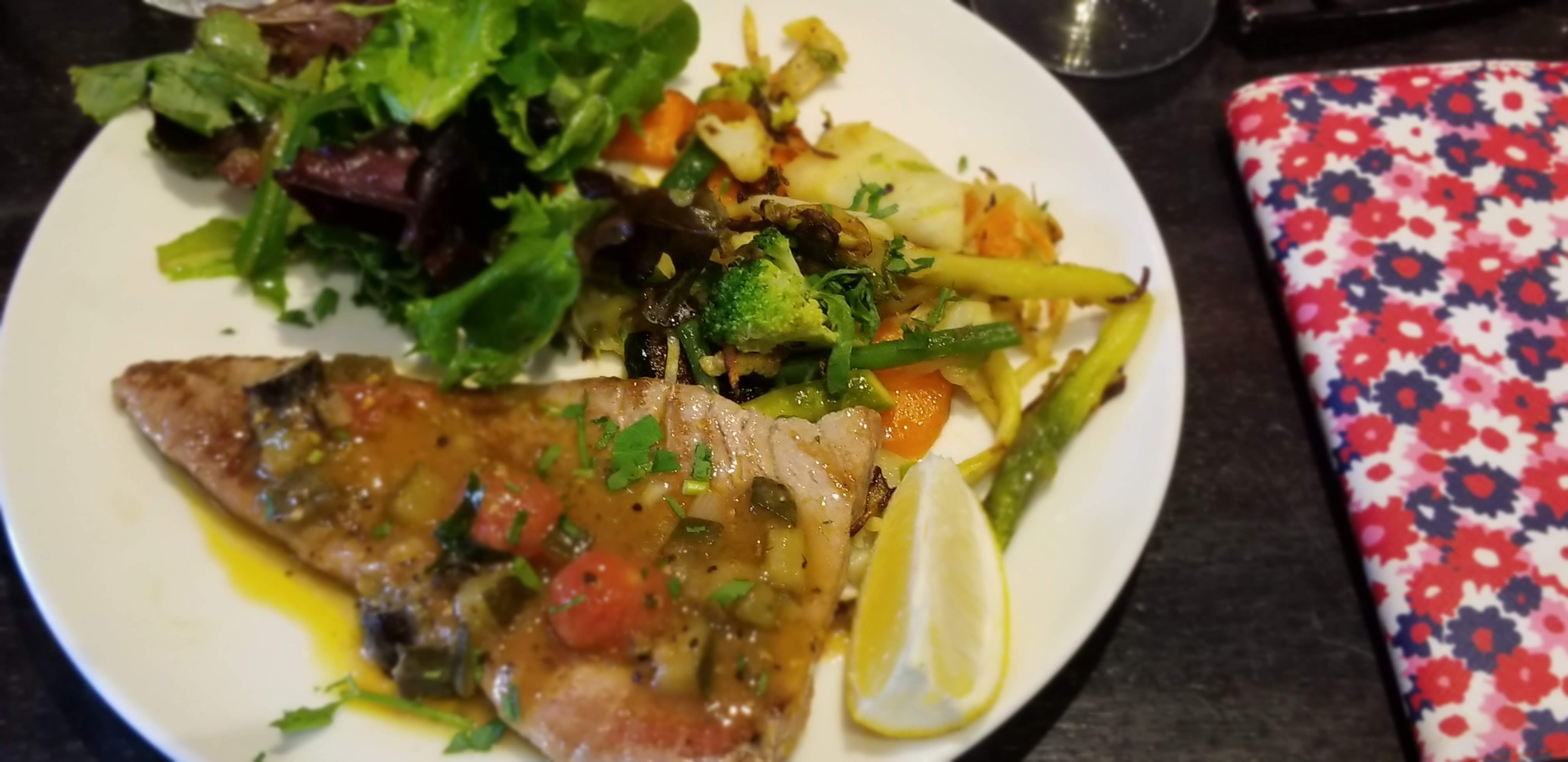 STAY FASHIONABLE!