Sadly this is about the last days of my first trip to Paris with my son Xavier in May 2019. We were fortunate to have 2 full weeks of art, food and great conversations in French & English.
In our first week and a 1/2 we had as many tourist adventures as we could. Just about every thing I have ever read or seen in photos of Paris we were privileged to experience. More details of our travel and first 11 days are in my posts: Longing For Paris (travel), Sacre Bleu le Sacré-Cœur (day 1-2), Greatest Surprise Video EVER! More Amazing Paris Sites (day 3), Stunning photos & video, my luxury life in Paris! (day 4-6), Watch the best, most revolutionary videos of Paris (day 7-9) & The most breathtaking & delightful photos of Paris (day 10-11).
---
We spent our last 2 days in Paris capturing photos of the most beautiful art in the world; inside the Louvre!
You can't go to Paris and not visit the Louvre; so on Day 12 I paid for skip the line tickets. I booked a late tour so we could sleep in and rest during the day. I also figured the later we go, the less people to fight through to see the art.
Being the Louvre I had to make certain my look reflected the venue. OOTD: Nanette Lepore skirt, Hunter tank top, Karen Scott cardigan, Michael Kors sandals, Vintage floral hat, Swarovski crystal earrings, Vintage Czech glass necklace, Paoli silk scarf, Prada sunglasses, vintage gloves.
---
We got an Uber to the same spot where we took our first pictures of the Louvre pyramids; and took even more. (see post Stunning photos & video, my luxury life in Paris!)
These sweet girls photo bombed Xavier with hugs which he totally loved!
I made plans to eat near the Louvre. Since it was starting to drizzle, we went to the restaurant in the courtyard of the Louvre Palace, Café Marley.
Once we were seated it began to pour down raining. I really wish it hadn't because I may have selected another restaurant. Review on Yelp & Google Maps.
---
I am not going to describe the Louvre because it's been done to death, in a million places, including the Wikipedia link above.
What I will say is it's BIG, I mean BIGGER THAN BIG! Like with it's own food court BIG! Wish we had waited, instead of the over price meal we had.
When you get the Louvre map it helps a little. However, it is difficult for those of us directionally challenged 😉.
Xavier & I wandered through a few exhibits and I eventually got turned around, even using the map. We went through hallways & walkways, we climbed stairs, we descended stairs and still I had no idea where we were.
I rounded a corner and saw this!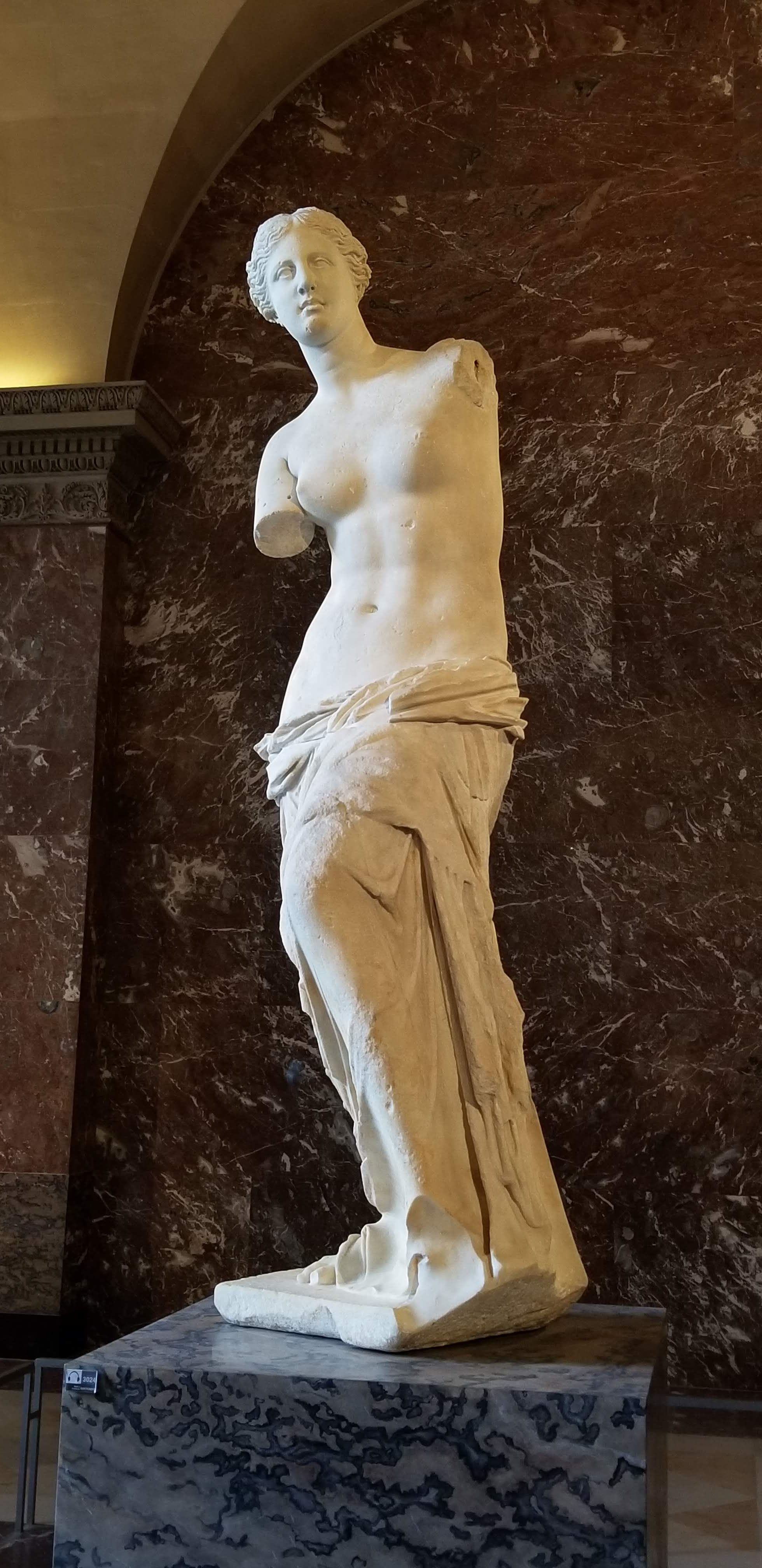 I couldn't believe my luck when we found the goddess herself, THE VENUS DE MILO!! Being in the Louvre so late in the day there was absolutely no one standing around her.
I was able to take a bunch of photos of myself and Xavier completely uninterrupted. Afterwards, I went to a bench near by to gather our things. I mulled over what just happened and began to cry.
When my son asked me why I was crying? I said, "Because mommy never thought she would be here in Paris staring at THE VENUS in person. It is truly a dream come true!"
I took a few moments to collect myself and our things. At that very moment we hear the announcement the museum is closing in 10 minutes. WHAT!?!
I quickly pulled out the map and tried to find the Mona Lisa. We walked back around the corned and luckily found a member of the museum staff. In my best French, I asked "How do you get to the Mona Lisa?"
He said there was no way for us to get there before the museum closed.
Completely frustrated with myself that I didn't allow enough time to see everything we wanted.
Said to Xavier, "Luckily, we have 1 more day in Paris. We can come back to get more amazing Louvre photos."
He was bummed of course, but said it was ok.
We made our way out of the museum getting photos of the inverted pyramid, like in the DaVinci Code.
---
Since we had time on our hands and Paris at our feet; we did more walking.
Walked along the Pont Neuf and to the Petite & Grand Palais. Once again we completely lucked out when the skies cleared for our spectacular pics.
At the Petite Palais, we witness a newly married couple taking photos in front of the golden double doors. The bride was fortunate the setting sun created the most stunning photos.
---
I wanted to hit another Phil Rosenthal recommendation (I'll Have What Phil's Having) Le Comptoir de La Gastronomie. Not only did Phil recommend it – it was the hottest rated restaurant in Paris according to my food bible, Yelp.
After standing in line for 10 minutes, I decided to ask one of the waiters about the wait time. Fortunately he spoke English and said he wasn't sure. Seeing my son, he said, "If you don't want to wait, there is a great place right across the street."
I thanked him & said I would wait for a bit and see. Le Comptoir review on Yelp, Trip Advisor & Google Maps.
After 5 more minutes I decided to go across the street and was so happy we did!
Postiche is a sweet Parisian bistro, literally across the road. The hostess spoke a bit of English and at first thought she would be a tough cookie.
As soon as she saw I tried to speak French, she gave us an outside table right away. Postiche review Yelp, Trip Advisor & Google Maps
---
It gets dark so late at night in Paris, so Xavier and I took an Uber to the Eiffel Tower. We wanted to see it light up at night.
We hadn't seen much of Paris at night so continued to walk the streets.
---
Day 13 OUR LAST DAY ☹. Not taking any chances I booked a tour. Wanted to make sure, I not only got more amazing Louvre photos but got my picture with The Mona Lisa.
NOW, here is a video of some the amazing Louvre photos I took over 2 days! There are so many but these are some of my favorites.
---
With a smile on my face we went back to the incredible Hotel R de Paris; that lovingly hosted us for 13 days. It was a sad moment as we had really built strong bonds with the entire staff.
---
We had another great first class flight home on Norweigan Airlines. And not surprising, it was a nightmare once we got to JFK Airport.
We finally make it home at some unfortunate hour. I can't rest knowing I have to unpack so got Xavier showered, in bed and began unpacking
It has been a year and a 1/2 since our trip to Paris. I still have the time and weather in Paris on my phone.
I can't wait to get back to my adopted home city, THE CITY OF LIGHTS, PARIS!!
STAY FASHIONABLE!