Welcome to My Restaurant Reviews
From Fine Dining 🍜 to Fast Food 🍔…
It's all covered here 🫕
---
Get 🆒🆕 restaurants reviews delivered directly to your inbox 💌
Join 942 other subscribers
---
Duck Donuts
Firstfield Shopping Center
511 Quince Orchard Rd
Gaithersburg, MD 20878
240-912-4897
My son and I moved into a temporary house 🏢 in Gaithersburg, MD this summer. As we were walking around the neighborhood he spotted Duck Donuts 🍩 in the shopping center across from our place.
From the moment my son saw it he kept bugging me to go 😩. I told him there was no rush since we would be living in the area for a bit.
On a Saturday my son & I went out to film 🎦 a vlog for my YouTube channel 📺 at a near by water park 🏊‍♀️.
On our way to the water park, we made our first ever trip to the famous 🏆 (at least in this area) Duck Donuts. All set up to film, I decided to add Duck Donuts to my restaurant reviews 🍽.
There is a bit of an art 🎨 to ordering but the large selection of toppings makes it easy 🥳. The donuts are in between cakey and soft, they are perfect 🤯.
Each order, even prior to the Covid pandemic, is à la minute. Hot and exactly the way you want it😋!
Here are a few videos of our experience
---
French
33 rue Lepic
75018 Paris
France
After dragging my 6 year old son all over Paris to experience the art of Dali, Toulouse-Lautrec and Van Gogh he was STARVING. I pulled out my handy Yelp app and my Google map which led me (after a few wrong turns on my part) to this restaurant. My Google map was accurate but I didn't understand, then realized the restaurant is on a triangular corner. The sign is a bit hidden but I loved the way the vines cover the entrance like you are entering a secret space.
Read full restaurant review of Le Basilic on Yelp or Trip Advisor
---
Coffee & Tea Shops, Desserts, Breakfast & Brunch
33 rue Lamarck
75018 Paris
France
Really cute location and the people were super sweet. We got there sort of late morning so they didn't have much left in the way of pastries but we got the last plain croissant and it was delicious. They put a little smiley in my son's hot chocolate and was the perfect way to start our busy day of sightseeing.
---
€€ Italian, Pizza
4 rue Lamarck
75018 Paris
France
I utilized Yelp for my entire 2 week vacation in Paris and it never let us down. We went to Pizzeria Babalou based on the reviews and we were so glad we did.
The gentleman did not speak much English; the woman spoke perfect English and was absolutely lovely.
We ordered the Capretta Pizza (1/2) and salad on the side. It was my 6 year old son & myself, and it was the PERFECT amount.
THE BEST PIZZA I'VE EVER HAD IN MY LIFE!! It was so good we went back a second time & the lady remembered us. I recommended it to everyone that asked me for restaurant suggestions. Not to be missed!!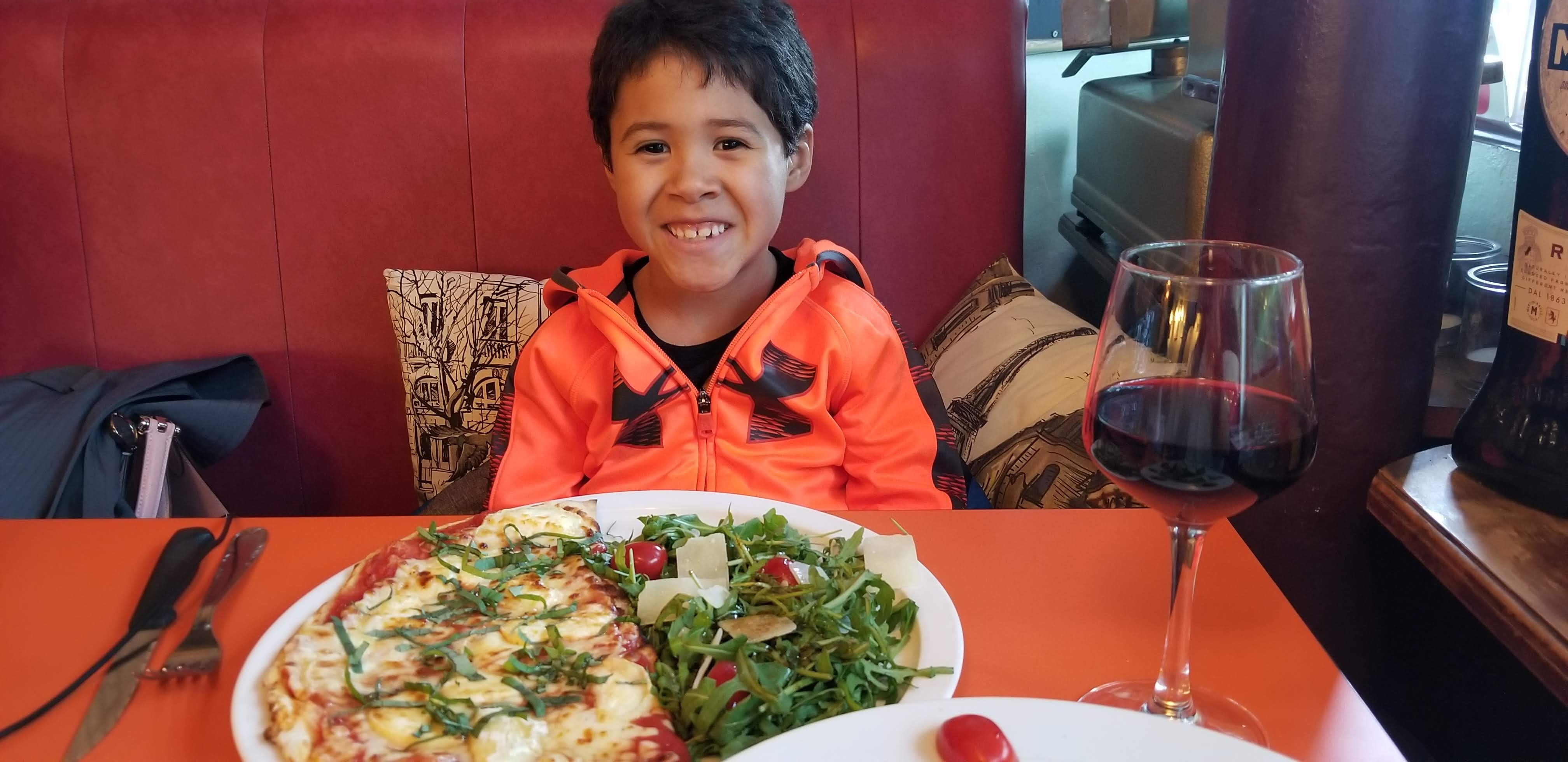 ---
€€€ French
14 rue de Clichy
75009 Paris
France
My 6 year old and I had an exhausting day of walking and got back to our hotel in the early evening. Wanted a quick dinner and bed for our early morning champagne tour.
HIGHLY RECOMMEND but be polite, reserve a table. We were there earlier than most Parisians eat dinner, so they were nice.
Read full restaurant review of Bourgogne Sud on Yelp or Trip Advisor
---
$$ Bars, American (Traditional), Piano Bars
70 W 36th St
New York, NY 10018
Stopped at this place after we arrived in NY and dropped off our bags at the Best Western up the block before our flight to Paris.
It was pouring down raining so didn't want to wander the streets looking for restaurants; most were closed for Mother's Day.

Read full review of The Rag Trader & Bo Peep Cocktail and Highball Store on Yelp
---
$$ American, Seafood
1403 Research Blvd
Rockville, MD 20850
I was fortunate to have a colleague that works near Cooper's Hawk and invited me to lunch. The moment you walk in you know you are in for something special.
Membership Pricing
Wine Club Members receive
10%* discount on retail wines sold at Cooper's Hawk Winery & Restaurant (1-5 bottles)
A 15%* discount when purchasing a half case or more (6-11 bottles)
20%* discount when purchasing a case (any 12 bottles) or more.
Members also receive a 10% discount on all carryout orders
10% discount on featured retail products. *where allowed by law
Read full reviews of Cooper's Hawk Winery & Restaurant – Rockville on Yelp
---
$ Coffee & Tea, Sandwiches
19520 Waters Rd
Germantown, MD 20874
This black owned business is relatively new to the area, less than a year. Went in according to the other reviews I read. The atmosphere was really cool and laid back.
Read full restaurant review of Provisions Cafe on Yelp or Trip Advisor
---