My first trip to Paris in May of 2019, was a 14-day, non-stop, art lover's dream! Therefore, the videos of Paris I created illustrates my luxury vacation to the amazing "City of Lights"!
Our travel & first 6 days are in my posts Longing For Paris, Sacre Bleu le Sacré-Cœur, Greatest Surprise Video EVER! More Amazing Paris Sites & Stunning photos & video, my awesome luxury life in Paris!
---
Day 7 started so early I didn't photo my OOTD: Alice & Olivia silk blouse, London Fog trench coat, vintage Halston scarf & Prada shades.
First up, Xavier and I took an Uber to BigBus Paris for a hop-on/hop-off bus tour. We got on the bus and immediately went to the top of our open top, double-decker. I wanted to capture as many photos and videos of Paris and soak in the sites both digitally and mentally!
The first leg of the tour we covered the lower parts of Paris: Place Vendôme, Academie Nationale de Musique aka Paris Opera and more.
---
Hopped off the bus near the famous restaurant, Les Deux Magot, just in time for lunch. In fact, Les Deux Magot is where the Paris elite partied. Artists such as James Joyce, Ernest Hemingway, Julia Childs and Pablo Picasso all frequented this lovely restaurant!**
** see Woody Allen's Midnight in Paris
For lunch Xavier and I shared a beautiful melted brie on toast with a simple salad. In addition to my usual glass of champagne, we received a delicious little bowl of pretzel snacks as a starter.
(2019 review Yelp, 2020 review Trip Advisor or Google Maps)
** I learned about Les Deux Magot watching I'll Have What Phi's Having starring Phil Rosenthal (creator of Everybody Loves Raymond). Phil did an entire episode on Paris so I vowed to hit many of the places recommended on the show.
---
All fueled up I was ready for more Paris, more art! I am a freak for glass art, so when someone told me about Sainte-Chapelle I made it a "must do" of our trip.
Touring the first floor Xavier and I and got lots of pics. I was impressed, but didn't get the big attraction.
As we were leaving I noticed a small staircase and said to Xavier, "Let's check it out." We had no idea where it led and was surprised we were event allowed access because it looked like one of those areas museums block off to the public.
Super narrow and winding we kept climbing forever, then NIRVANAH!
(review Yelp, Trip Advisor or Google Maps)
---
After Sainte-Chapelle, Xavier & I walked until we found our next bus stop.
Getting as close to Notre Dame as possible, in spite of the fire that occurred just months prior.
---
The next part of our bus tour included le Grand Palais **, le Petite Palais, Les Invalides, but more importantly, we drove down the Champs-Élysées to le Arc de Triomphe!
(review Yelp, Trip Advisor or Google Maps)
**sculptures are covered for protection & further deterioration
Finally, after 6 days we get as close as we have to le Tour Eiffel aka Eiffel Tower!!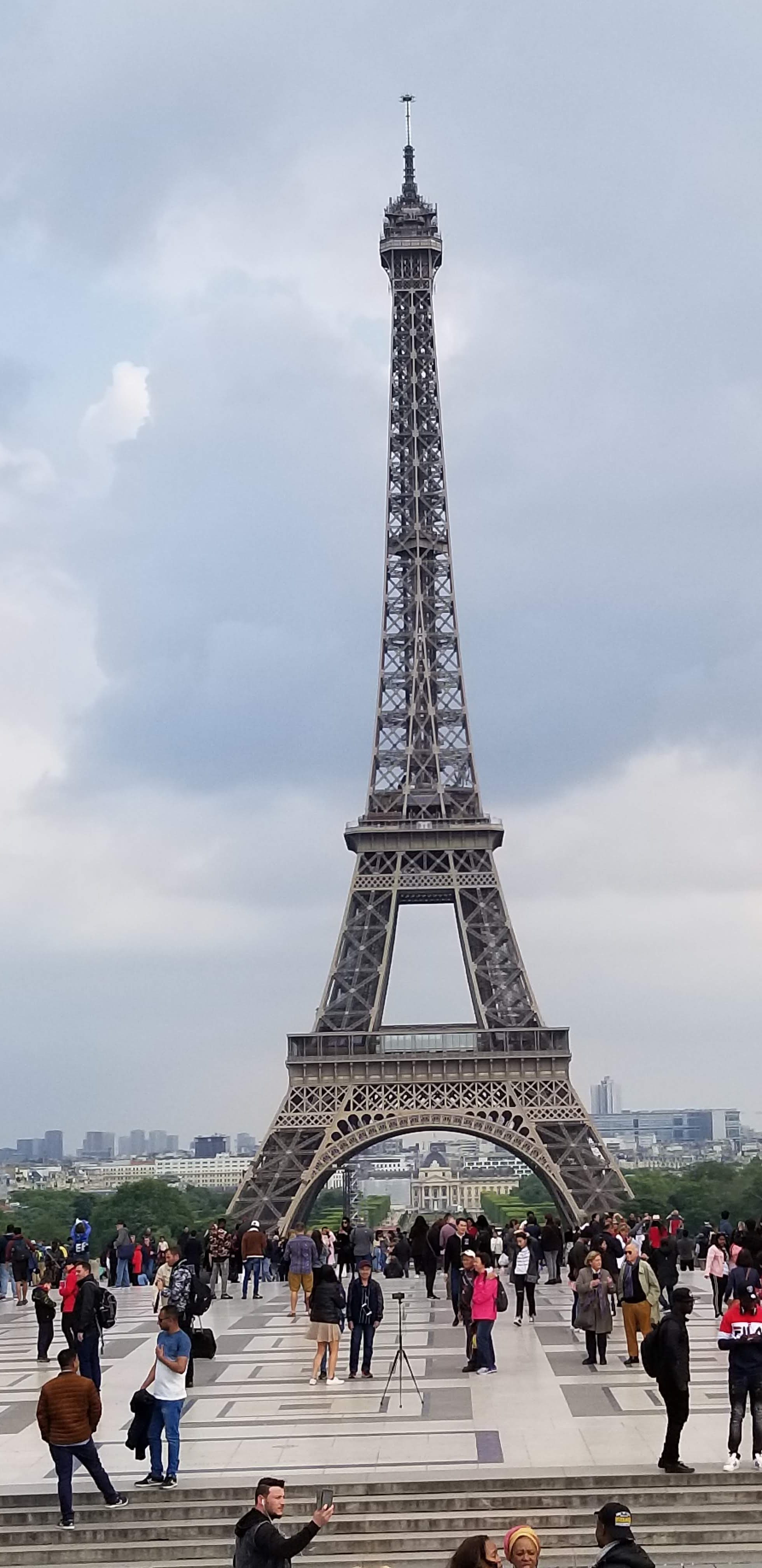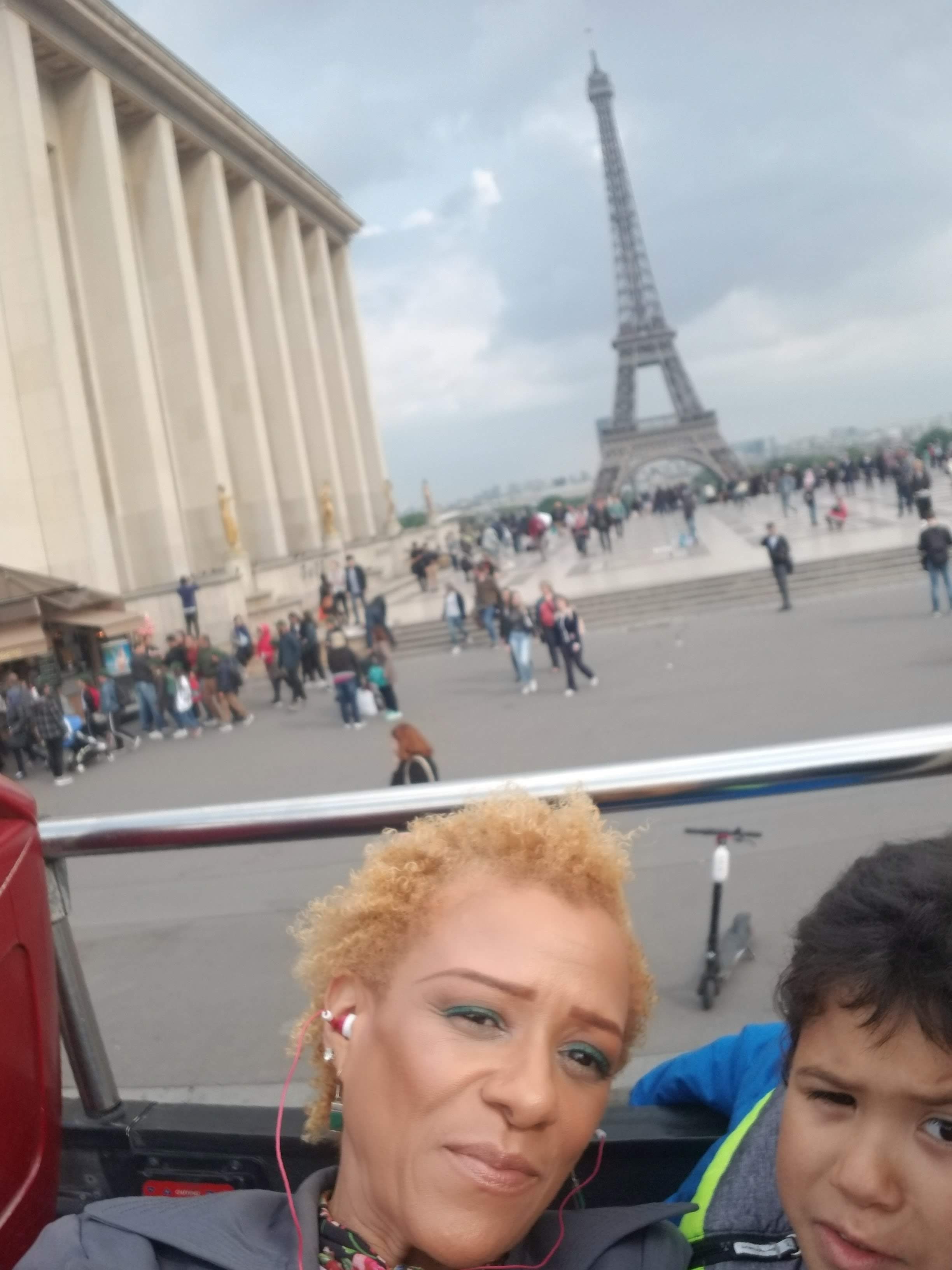 In conclusion, our bus tour ended at the place it began, near the Rue de Rivoli.
---
During our walk on the Rue de Rivoli we hit another Phil recommendation, Angelina. Of course, Angelina is known to have the best hot chocolate in the world, according to Phil.
(Yelp, Trip Advisor or Google Maps)
We waited ever so patiently and salivated over the different macaroons on display. Xavier and I watched the making of our thick, creamy, hot beverage and purchased a ½ dozen macaroons.
Then, I called Uber and sipped chocolate sitting in front of the Angelina cart. Since, Uber upgraded our car the driver would not let us drink in his Mercedes ☹!
** Watch Xavier's expression!
---
I purposefully set up an easy day of mostly sitting on a bus because I planned an amazing luxury dinner cruise on Bateaux Parisian (Expedia). OOTE Rachel by Rachel Roy Dress, INC black sequin pumps, Urban Expressions perforated leather clutch and white silk headband.
(extended review Yelp, Trip Advisor or Google Maps)
---
Day 8 had only one activity planned, in a word (or 5): TOP OF THE EIFFEL TOWER! OOTD: D&J cropped jeans, Karen Scott top, See by Chloe blazer, Paoli scarf, Karl Lagerfeld flat shoes, Michael Kors tote, London Fog trench coat & Prada blue lens/tortoise shell sunglasses.
---
Day 9 was an incredibly beautiful Parisian spring day OOTD: BCBG Max Azria dress, Skies are Blue blazer, Michael Kors sandals & vintage Halston scarf.
I booked another Expedia tour so we started the day getting an Uber to lunch at La Flamme.
(Yelp, Trip Advisor or Google Maps)
Also the meeting place for our 2:00 pm tour to Monet's House & Garden.
Unfortunately, there was a mix up with Expedia (my fault) and had to re-book for another day, UGH!
** Monet's House & Garden see The most breathtaking & delightful photos of Paris
---
In spite of my blunder, as an event planner I have learned to think on the fly.
Decided to altered our plans to a free-flowing, unscheduled day. I then pulled up Google Maps (link) since I planned to visit so many places for our trip. I looked at my saved locations and we got moving.
---
We were across the street from the Arc de Triomphe
(Yelp, Trip Advisor or Google Maps)
so we used the underground passage instead of trying to figure out how to cross the roundabout.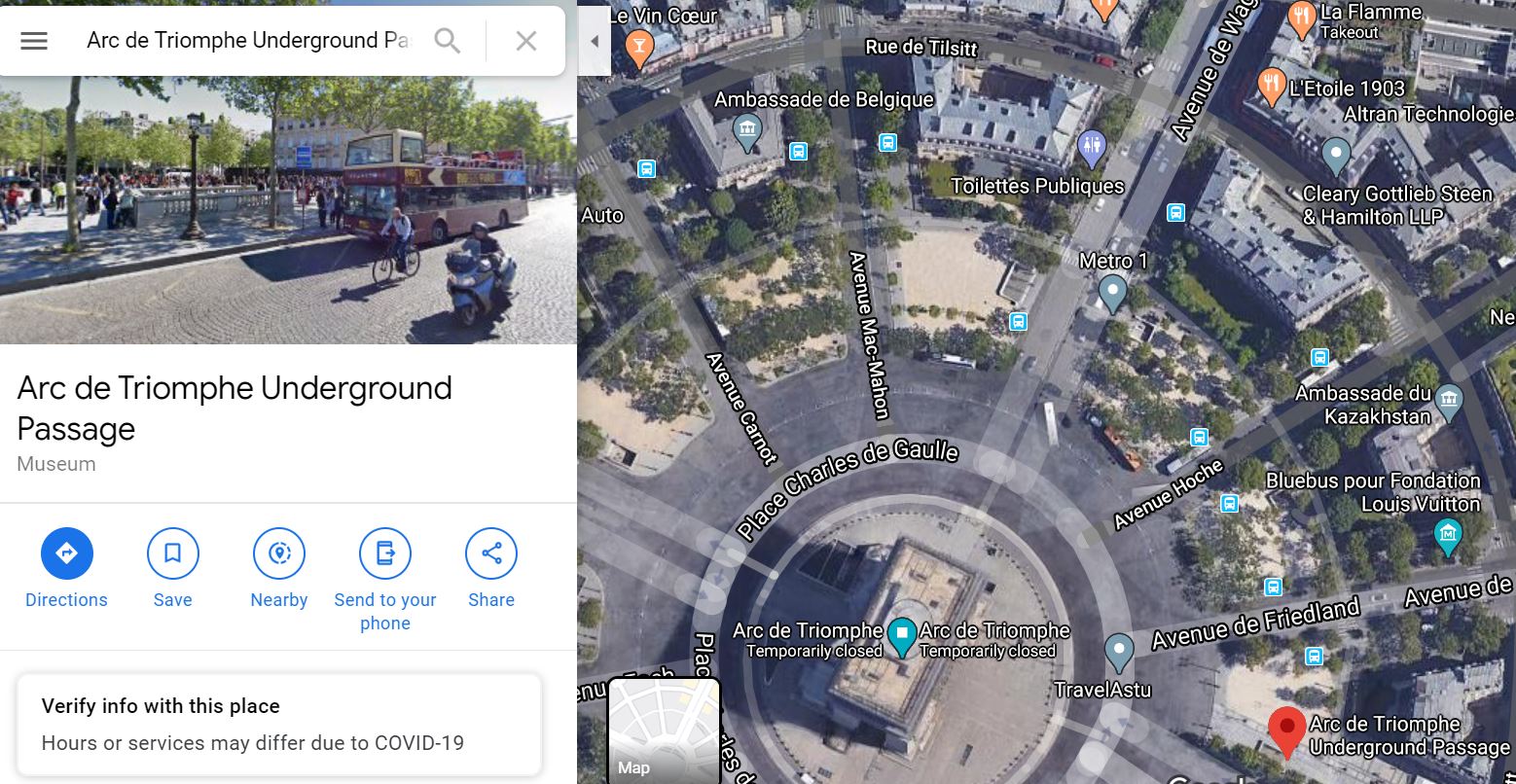 ** Can you see Xavier? Certainly gives you perspective just how huge it is
---
Afterwards we bot an Uber to drive us to le Marais to get pics outside of The Centre Pompidou; heard it was not to be missed when visiting Paris.
It's surprising to see the 'inside-out' architecture & how each part of the mechanics is painted a different color (green pipes are plumbing, blue ducts are climate control, electrical wires in yellow, and circulation elements and devices for safety ((e.g., fire extinguishers)) are red).
(Yelp, Trip Advisor or Google Maps)
---
From The Centre Pompidou it's a short 15-minute walk to Musée Picasso aka the Picasso Museum. We toured the entire museum from top to bottom and took a million pictures along the way.
(Yelp, Trip Advisor or Google Maps)
---
Just another short walk was Le Marais. Le Marais is the Jewish area of Paris & because my 2nd family and many of my friends are Jewish I felt right at home. While in le Marais, I wanted to try another Phil recommendation and hit up L'As du Fallafel. **
(Yelp, Trip Advisor or Google Maps)
* Trying to hit them all, lol.
---
After lunch, Xavier and I sat on a bench near the Jewish school where the kids were playing outside. I even got a few pics while trying to get an Uber. Sadly, we couldn't get a car from our location so had to walk to a major street.
Walking down the cobblestone street, Xavier, hooked on Nike had to check out the NikeLab P75 store.
And I being a huge fan of Michael Kors, when I saw the recognizable sign, had to drop in for a browse. As soon as we walked in the sales lady immediately approached us with a smile that lit up the space. Most importantly, she spoke English and offered her assistance.
Looking around I immediately noticed a handbag that blew me away. Xavier was being anxious so the sweet sales lady offered to give him the wi-fi so he could play on his tablet while I shopped (BONUS)!
From that moment on we became friends, lol. The salesman and manager also got talking so I showed them how much I love Michel Kors (see OOTD). I further proved my MK fandom when I pulled out my wallet. The manager told me she had not seen this pattern in Paris.
My new friend told me my coveted bag was not only limited edition and engraved with Michael Kors' signature, but it was the last 1 in Paris. Was it true? Who cares, I wanted it! As a result, the best handbag purchase EVER! See why!!
Wish I remembered the names of my new friends but hopefully they will see this photos and know what a great experience I had in their store.
Stay Fashionable!