The Met Gala 2023's Amazing Red Carpet & More covers the incredible fashion event from beginning to end!
Affectionately referred to as "fashion's biggest night out," the Met Gala is a fundraising benefit for the Metropolitan Museum of Art in New York City. The event welcomes stars, young creatives, and industry paragons.
The Gala Theme
The 2023 Met Gala theme paid homage to one of fashions greatest designers, Karl Lagerfeld, who died in 2019.
Titled, "Karl Lagerfeld: A Line of Beauty," the exhibition features around 150 original looks from his storied career; alongside many of their respective original sketches. Lagerfeld often said that he could draw before he could talk, and his illustrations held the secrets to his creative vision.
But we know what you're really here for—the red carpet looks! This year proved to be one of the most glamorous in recent years, thanks to a dress code that simply stated "in honor of Karl."
Celebrities like Penelope Cruz, Dua Lipa, and Kristen Stewart went through the vast Chanel archives to select their looks. While others like Cardi B and Teyana Taylor, sought inspiration from Lagerfeld's own iconic style.
While "Karl Lagerfeld: A Line of Beauty" celebrates the designer's decades long career and his designs for several fashion houses, Chanel is heavily represented in the show and on the Met Gala's red carpet.
What's on the Menu
Karl Lagerfeld loved throwing dinner parties. "He'd take me to chaotically planned, totally glamorous dinners at his house. Those incredible nights often ended with dancing," Anna Wintour recently told the New York Times.
When choosing a culinary concept for the 2023 Met Gala, the Vogue special events department and caterer, Olivier Cheng, took their cues from one of Lagerfeld's most famous soirées.
In 1978 Lagerfeld hosted the wedding reception for Paloma Picasso in his Paris apartment. Guests included Yves Saint Laurent & Manolo Blahnik who celebrated until 8 a.m. "It was my house at its best," the designer told WWD.
Like that September evening, this year the tables were adorned with French linen napkins, varnished hand-painted candelabras, and bouquets of pink blooms.
"The hope is that it will feel very much like a dinner at his home," says Eaddy Kiernan (contributing editor at Vogue & closely involved in planning the annual event). 
Attendees will also be surrounded by a set that is meant to evoke Lagerfeld's home library. Lagerfeld was a known bibliophile. His apartments were always filled to the brim with a wide array of books. "I go to bookshops almost every day of the week," he told Vogue in 1992.
For dinner, guests dined on chilled spring pea soup with baby vegetables, lemon crème fraîche, and truffle snow. Followed by Ōra King salmon with vegetable nage, asparagus, pickled strawberries, and radish—all served on vintage china.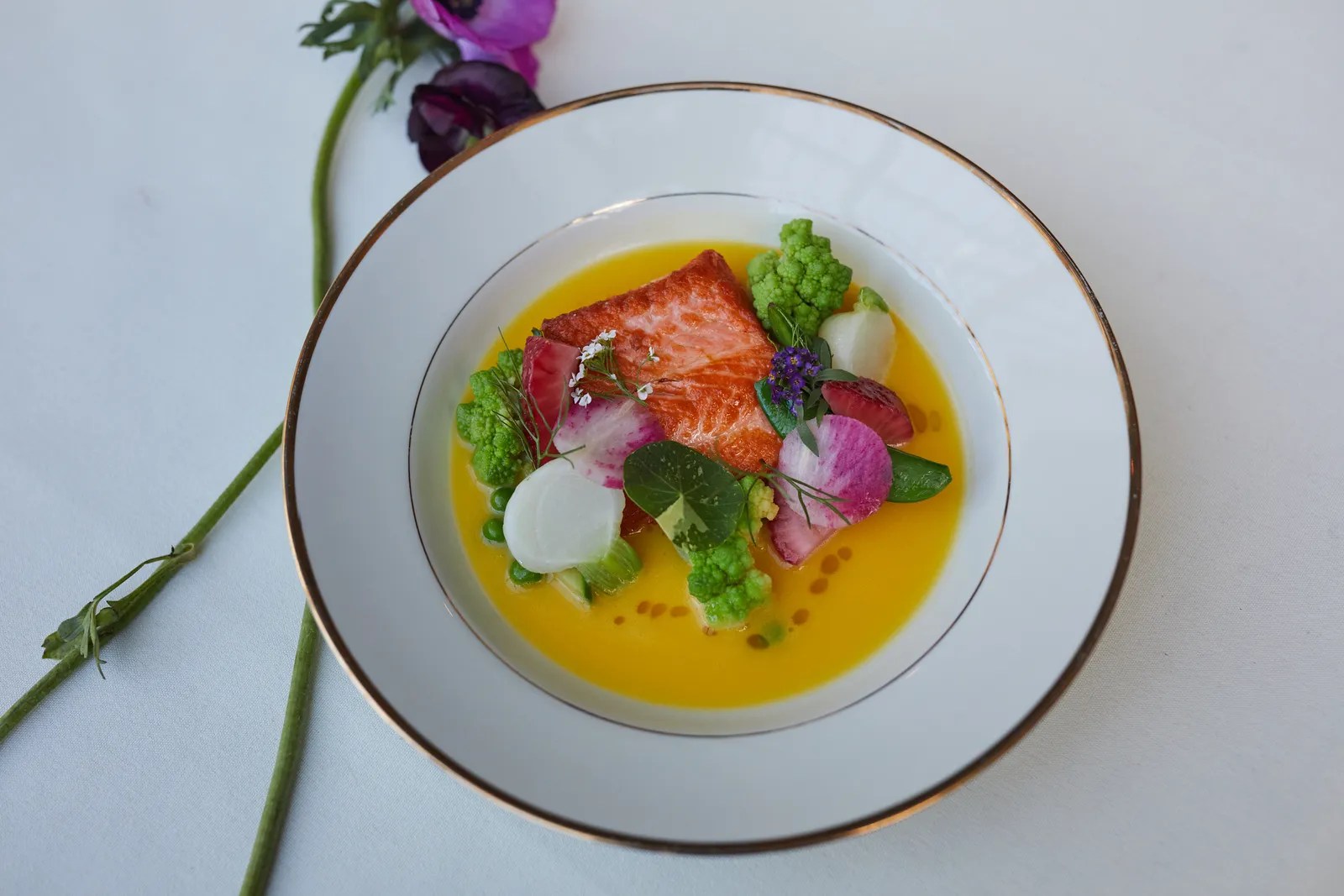 There was plenty of wine & Diet Coke. The soft drink was a favorite of Lagerfeld's, who often was said to drink up to 10 per day.
---
Late Arrival
During the end of the live red carpet the hosts kept saying they were waiting for a "special arrival". After 15-20 minutes of waiting they decided to wrap up the broadcast. My feeling was Anna Wintour told them they could no longer wait due to cost.
I knew in my heart of hearts they were waiting for Rhianna & they were! Arriving really late Rhianna & A$AP Rocky still walked the carpet so the photographers could get their shots.
Rihanna is known for arriving to the Met Gala fashionably late. Anna Wintour joked in a Vogue "73 Questions" video; Rihanna is one of the only celebrities allowed to arrive late to the Met Gala. 
At the 2021 event, she and Rocky were two of the last celebrities to walk the carpet. Rhianna skipped last year's Met Gala — giving birth to her first child later that May.
---
Inside Chanel's Met Gala After-Party
Leave it to Chanel to host THE MOST EXCLUSIVE event of the night. It was a party that was so hush-hush, Met Gala goers might have wondered if they could even get in! The party was set at the Mercer Hotel's not-yet-opened Sartiano's.
Chanel is unsurprisingly punctual, so guests knew not to dilly-dally at other events. Making a quick change to after-party looks guests headed straight to Soho for even more festivities.
Guests wound downstairs to a basement level that was gorgeously glowing in candlelight. The venue was filled with floral bouquets of lilacs, white peonies, and roses. Party goers could take a spin on the dance floor or tuck into a booth for a bit more privacy.
Most guests dressed in the codes of the Chanel house on The Met Gala red carpet. It was only fitting for Chanel to host an after-party—or make it THE AFTER-PARTY!
---
The Costume Institute's spring 2023 exhibition will examine the work of Karl Lagerfeld (1933–2019). The exhibit focuses on the designer's stylistic vocabulary. An aesthetic theme that appears time & again in his fashions from the 1950s to his final collection in 2019.
The show spotlights the German-born designer's unique working methodology. Most of the approximately 150 pieces on display will be accompanied by Lagerfeld's sketches.
Lagerfeld's fluid lines united his designs for Balmain, Patou, Chloé, Fendi, Chanel, and his eponymous label, Karl Lagerfeld. Thus creating a diverse and prolific body of work unparalleled in the history of fashion.
Other Exhibits Currently at The Met
The African Origin of Civilization
STAY FASHIONABLE 🥰
---
Comment if you will be attend the exhibit. SUBSCRIBE for FASHION & BEAUTY NEWS!
Join 1,172 other subscribers
---
AB-FAB Links ⬇️