It's National Volunteer Month, Including How To Help Ukraine #NVW.
** Apologies, but to long to add tons of emojis 🥺
But First…
Posting 2️⃣ blogs this week; there is so much going on! 🤯 Most importantly, getting ready 📝 for my first IG Live 🥳😬
Join me on 4-20 🌿 at 1:00 pm EST to learn 🧠 my tips & tricks 💡 for caring for your shoes 👠
🙏🏽 SHARE IG handle ➡️HERE⬅️ with family 👨‍👩‍👧‍👦 & friends 👯‍♀️ to join this spectacular 🥇 comprehensive 🕵🏽‍♀️ LIVE demonstration! 👩🏽‍🏫
Agenda 😲
Leather Care
Suede Care
Birkenstock Care
Hunter Boots Care
Replace Your Heels
Tip Your Toes
💭 Comment ANY questions 🆘 you would like me to answer live!!
🙋🏽‍♀️ 2nd blog will post Wednesday, April 20 @ 4:20 pm on The Real Reason We Associate 4️⃣2️⃣0️⃣ With Weed 🌿
---
And Now…
You know my go-to site is National Today 💖 here's what they say about National Volunteer Month 🧑🏽‍🏫
National Volunteer Month in April celebrates the impact volunteers have on our lives & encourages active volunteerism in generations to come.
Most often unpaid, they generously donate a part of their lives to do the work that nobody else likes to do — cleaning up after the event, fostering shelter dogs, chaperoning field trips, or helping the librarian; there are so many areas requiring volunteers.
This month, we salute them for their unwavering services to businesses & communities and hold aloft their examples to inspire young and adults towards volunteerism.
How to Observe National Volunteer Month 🧰
Volunteer at an organization Nonprofits receive an overwhelming number of requests in April, so if you can't get a spot in, don't push the idea away. Sign up for volunteering for some other month this year – but make sure you do volunteer!
Throw an appreciation volunteers' party They truly deserve the honor. Plan a party for all the volunteers you know at a wacky place, like a coffee shop, and bring in some surprises. Make sure your recognized volunteers don't even get up to get their drinks. Find volunteers to volunteer!
Celebrate it on social media Whether you are volunteering this month or remembering some great volunteers of the past (and present), share pictures and tell your story using the hashtag #NationalVolunteersMonth.
5️⃣ Facts About Volunteering That Will Blow Your Mind 💣
Volunteering makes people happy 96% of the volunteers believe that volunteering makes them happier persons and they answer questions more positively if they've recently volunteered.
It leads to better job opportunities Volunteering takes you to places & tells you about vocations you've never heard of before. Not to mention the excellent impression it makes on your CVs!
It reduces depression With feelings of happiness, empathy, and brighter job prospects, it's no doubt studies reveal that volunteering significantly lowers levels of depression.
Millions of nonprofits There are 1.8 million non-profit organizations in the United States alone, so the opportunity to volunteer is close to never-ending.
Why We Love National Volunteer Month 💗
It fills critical gaps in service Without volunteers, we wouldn't be able to host events or hold programs as easily as we do today. Since most of these events are extremely important for communities and businesses, volunteers fill a critical gap in service.
Americans volunteer 8.8 billion hours annually With such a massive amount of time donated for the greater cause, all non-volunteers owe this month to celebrate 30-days of appreciation to volunteering efforts.
It inspires us to volunteer Thousands of aspiring volunteers have emerged for decades during April. Driven by the admiration they receive during National Volunteer Month every year, they are excited to become part of the month, too!
National Volunteer Month FAQs ❓
When did volunteering start? 🤔
The act of humanitarian service is traced back to WWII and the Civil War where women volunteered for wounded army soldiers.
Does volunteering help the country?
Absolutely yes. Besides helping you, volunteerism contributes to the economy, builds a safer and stronger community, and promotes civic engagement.
---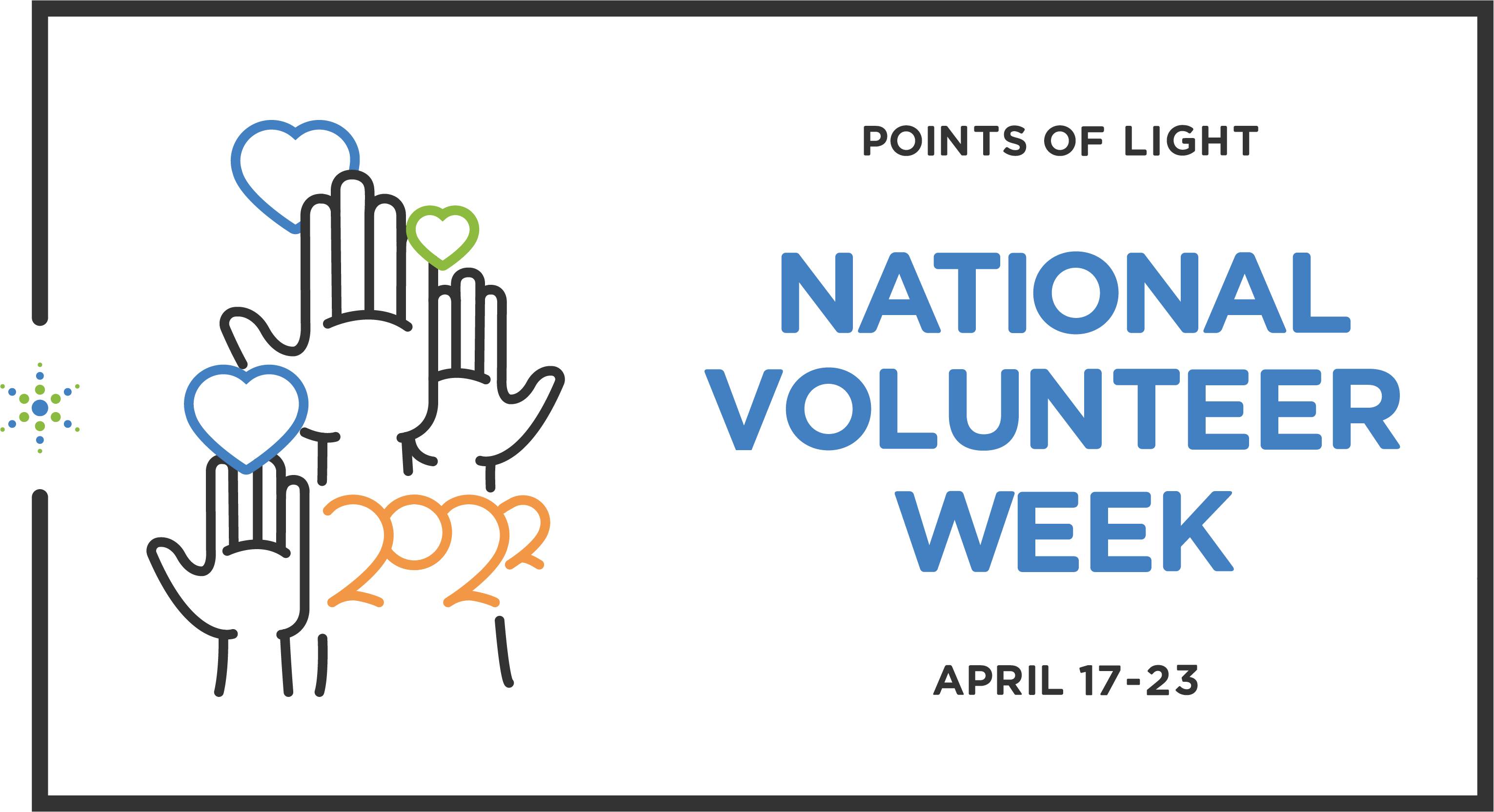 National Volunteer Week is an opportunity to recognize the impact of volunteer service and the power of volunteers to tackle society's greatest challenges, to build stronger communities and be a force that transforms the world.
Each year, we shine a light on the people and causes that inspire us to serve, recognizing and thanking volunteers who lend their time, talent and voice to make a difference in their communities.
National Volunteer Week was established in 1974 and has grown exponentially each year, with thousands of volunteer projects and special events scheduled throughout the week. Today, as people strive to lead lives that reflect their values, the expression of civic life has evolved.
Whether online, at the office, or the local food bank; whether with a vote, a voice, or a wallet – doing good comes in many forms, and we recognize and celebrate them all.
---
Ways to Volunteer in the DMV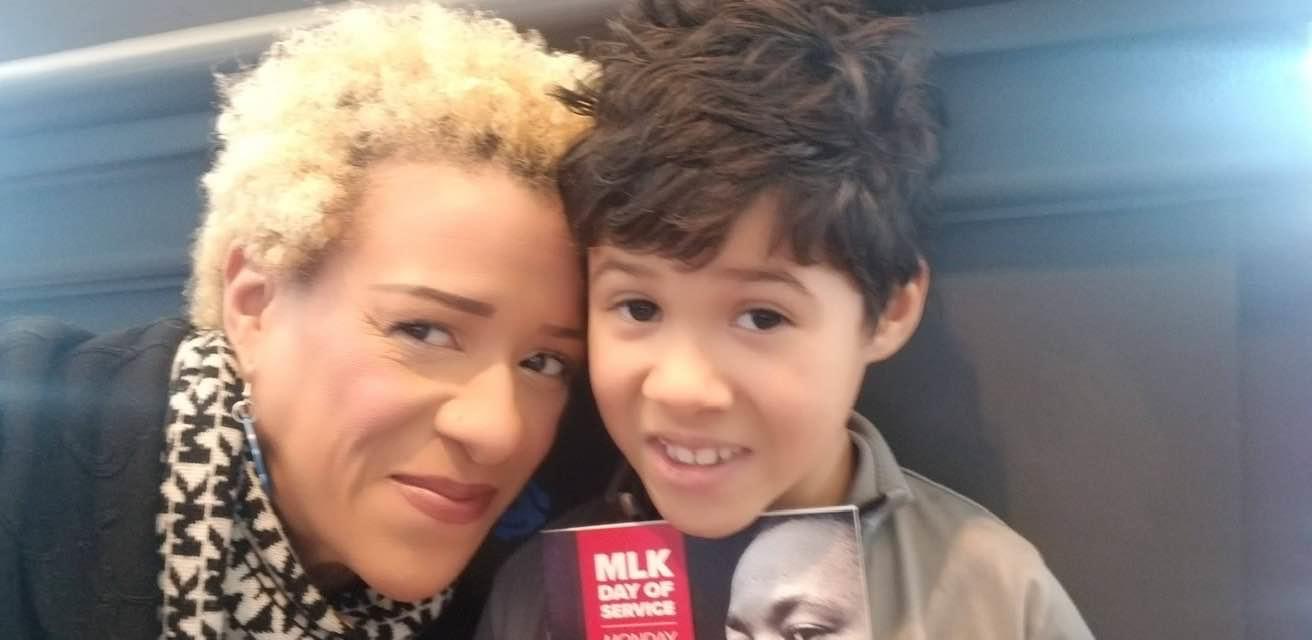 CLICKABLE LINKS 👇🏽
No one every thinks about Yelp when looking for volunteer opportunities. Below is the link for the DMV, but check the site☝🏽 for your area.
https://www.yelp.com/search?find_desc=Volunteer+Opportunities&find_loc=Washington%2C+DC
---
A Proclamation on National Volunteer Week, 2022
APRIL 15, 2022•PRESIDENTIAL ACTIONS
Over the past year, we have seen that the American spirit of service is alive and well. Every day, Americans are giving their love and labor to care for seniors, help communities rebuild after disasters, support veterans and military families, tackle climate change, guide and mentor our youth, serve and strengthen the democratic process, feed the hungry, and keep communities healthy and safe. Tens of millions of Americans collectively volunteer billions of hours of their time each year. This commitment to service represents the best of who we are as Americans. During National Volunteer Week, we recognize the contributions that our Nation's volunteers make every day and encourage all Americans to discover their path to making a difference.

We also need to call on that spirit more than ever as we help our Nation recover from the COVID-19 pandemic. For example, we need volunteers in education to help students get back on track, and I encourage Americans to support our youth by serving as tutors and mentors or in other critical roles. As we tackle the pandemic and so many other challenges, government has a role to play, but our Nation is stronger, more connected, and best prepared for the future when government, nonprofits, community organizations, the private sector, and the American people work together.

Volunteering also benefits the volunteers. People who volunteer develop new skills, build their personal and professional networks, forge a deeper connection with their communities and service organizations, and experience the joy of serving a larger cause. The opportunities to volunteer are seemingly limitless. Students gain real world experience, workers apply their skills to organizations that benefit from their experience and often develop new skills in the process, and older Americans improve their health and longevity. At every age and stage in life, volunteers experience the profound joy of giving back.

Volunteerism is also a reinforcing cycle. Volunteers are more likely to become further involved in volunteer groups, participate in civic organizations, attend public meetings, and lend a helping hand to their neighbors. Serving together in common purpose has the power to unite us across the lines that sometimes divide. As I pursue a unity agenda in the Congress, volunteering serves as a unity agenda for our national life.

Vice President Harris and I salute all of our fellow Americans who take time to help others in need and the faith-based, nonprofit, national service, military service, and community organizations that make their service possible. My Administration is committed to encouraging and advancing volunteer service throughout our Nation and the world. Through AmeriCorps — a network of service programs across our country that helps meet community needs — we are removing barriers to service, expanding volunteer opportunities, and focusing on our Nation's toughest challenges. AmeriCorps increased the living allowance for national service members through funding from the American Rescue Plan and is working with partners to recruit volunteers in underserved communities so that service opportunities are more accessible. To serve communities abroad in their response and recovery efforts from the pandemic, the Peace Corps has developed criteria and processes to return volunteers around the world. I encourage all Americans to learn how get involved by visiting AmeriCorps.gov and peacecorps.gov/volunteer.

NOW, THEREFORE, I, JOSEPH R. BIDEN JR., President of the United States of America, by virtue of the authority vested in me by the Constitution and the laws of the United States, do hereby proclaim April 17 through April 23, 2022, as National Volunteer Week. I call upon all Americans to observe this week by volunteering in service projects across the country and pledging to make service a part of their daily lives.

IN WITNESS WHEREOF, I have hereunto set my hand this fifteenth day of April, in the year of our Lord two thousand twenty-two, and of the Independence of the United States of America the two hundred and forty-sixth.

JOSEPH R. BIDEN JR.
The White House
1600 Pennsylvania Ave NW
Washington, DC 20500 WH.gov
---
And Finally…
How to Help the People of Ukraine
Amid the Russian invasion of Ukraine, we stand with the people of Ukraine. If you're interested in learning about ways to help support or donate to Ukraine, explore the resources below.
On February 12, 2022, The U.S. Department of State issued a travel advisory, in which it warns travelers not to travel to Ukraine "due to the increased threats of Russian military action and COVID-19."
While we understand many are looking for volunteering opportunities in Ukraine, the best way to support the Ukrainian people is to support organizations that are actively accepting and distributing donations to front-line workers and Ukrainians affected by the war.
Here's how you can support the people of Ukraine, from wherever you are in the world.
CLICKABLE LINKS 👇🏽
Donate Medical Supplies 🩺
Sunflowers of Peace: Fundraiser aimed to provide first-aid backpacks to front-line paramedics and doctors in Ukraine
Revived Soldiers Ukraine: Non-profit helping to fund soldiers' rehabilitation
International Medical Corps: Team of first responders helping to provide medical and mental health services to those in affected communities and the medical teams helping refugees in Ukraine
Help Children & Families Affected By the War 👶🏽👧🏽🧒🏽
Help BIPOC & LGBTQIA+ Refugees in Ukraine 🌈
Insight Ukraine: Public organization collecting funds to cover basic food, shelter, and relocation needs for LGBTQIA+ refugees
QUA (LGBTQ Ukrainians in America): Helping to provide legal support to LGBTQIA+ Ukrainians and provide refugees with menstrual hygiene products and donations for housing and childcare
Coalition To Support Black People In Ukraine: Fundraiser aiming to support Black refugees pay for relocation fees and provide them with essentials such as blankets, food, heating pads, phone lines, and clothes
Can't donate money? Help share and boost the stories of Black refugees by sharing their stories using the #AfricansinUkraine hashtag across Instagram and Twitter.
Note: The content found on the #AfricansinUkraine hashtag displays the racial violence Black Africans have been facing as they flee Ukraine, which may be triggering to some readers. Before sharing, use a trigger warning tag to warn readers about sensitive content.
STAY FASHIONABLE 🥰
---
Comment below & let me know HOW WILL YOU BE VOLUNTEERING THIS MONTH?
SUBSCRIBE for FASHION NEWS & FUN!
Join 1,172 other subscribers
---
AB-FAB Links ⬇️