Now that spring merchandise has been added & updated in the AB-FAB Designs shop (MERCH HERE); weekly movie & TV reviews are returning every Thursday at 8:00 pm EST.
AB-FAB Designs Reviews is your "GO-TO" site for MUST WATCH binge worthy streaming.
Looking over notes there are so many movies & shows to review, so make sure to come back each week (Thursday at 8:00 pm EST) for the latest.
PREFACE FOR NEW READERS: Reviews are based on the following streaming services Netflix, Amazon Prime, Hulu & YouTube (my channel, link below).
ZERO SPOILERS: No spoilers given in reviews. AB-FAB Design ratings are a guideline for you based on sole unsponsored opinion.
LATEST TV SHOWS: Waiting for so many shows to come back for a new season before reviewing them (HELLO Black AF & Empire)
---
Helpful Movie & TV Weekly Reviews Really Are Back YES!
Starting with a "smoke-worthy" movie since we just past 420 🌿🙃
Jay and Silent Bob Reboot (2019)
As an old "head" & huge fan of Kevin Smith 90s movies (Clerks, Mallrats and my fav Dogma), I was ready to see the latest Jay and Silent Bob movie.
As usual Kevin Smith never fails at bringing some of Hollywood's biggest actors to support his sophomoric stoner romps.
Basically, ANY actor that ever appeared in a Kevin Smith movie or got baked in LA, made an appearance in "Reboot". Even Matt Damon makes a cameo as Loki (Dogma) and fucking NAILS IT!
Luckily Kevin Smith was able to get Jason Mewes heathy enough to work because it was truly great to see him doing something that will hopefully be a positive in his future. Good luck Jason!
Other notable cast members of my generation 👵🏽🤣 (from IMDb)
The story line is nothing new. Jay and Silent Bob once again are on a mission to get their names back from Hollywood. On which their usual road trip becomes filled with hijinks & a crazy action plan that keeps you laughing.
Since it is a Hollywood Reboot, they make sure to add young actors (Aparna Brielle, Alice Wen) including Kevin Smith's now adult daughter (that has made appearances in several of his movies) Harley Quinn Smith.
Also keeping with the reboot tradition (see my blog on Coming 2 America below) they not only add youth and diversity but state it up front in the first 10 minutes of the movie. LOVE IT 😝🤪
Has a few hard core belly laugh moments & the story gives just enough sentimental emotion to keep you going to the end.
Giving this a good rating because even though the movie is "low brow" to some, I enjoy Kevin Smith's cleverness.
I know this may sound like a strange connection but he reminds me a lot of Woody Allen. That is to say, ironic comedy doesn't have to be subtle to be funny.
---
Magnum Dopus: The Making of Jay and Silent Bob Reboot (2020)
Magnum Dopus: The Making of Jay and Silent Bob Reboot is just as fun as the actual movie. Who doesn't enjoy a backstory; seeing the movie making process & how actors work their craft.
Magnum Dopus allows Kevin Smith to go in-depth on what he went through to get the green light for the film. He talks about his heart attack & Jason Mewes getting off drugs.
Kevin looks great, vegan life really agrees with him. Jason Mewes' new teeth really helps fill out his face. You can see where a very handsome man was effected by his lifestyle.
Again a high rating as Magnum Dopus is really a love story. Not only a giant Hollywood Hallmark card to all the amazing actors Kevin Smith has worked with over his long career (see above). But a HUGE SMOOCH to every fan that has ever enjoyed one of his movies. Besides… IT'S FUCKING HIGH-LARIOUS!
Promise this is not a spoiler. There is a scene where Kevin gets emotional seeing the storefront of the Quick Stop.
---
Some people hate it but I ❣️ the Netflix algorithm. Always gives great recommended viewing; so I never have to spend time searching for something to watch.

Hitting in my cue these days are courtroom docuseries (of course I started it, lol). Docuseries are great because you don't have to wonder what to watch next!

Wouldn't be a Helpful Movie & TV Weekly Reviews Really Are Back YES! if I didn't include THE MOST relevant topic today: Wrongful Abuse of African Americans in the United States.

With Derek Chauvin being charged (4-20-21) on all 3 counts in the murder of George Floyd, I thought it important to touch on this topic during my reviews this week.
---
Amend: The Fight for America (2021)
Will Smith hosts this 6-part docuseries on the 14th Amendment to the United States Constitution.
Amend: The Fight for America discusses the history of the passing of 14th Amendment on July 9, 1868. Also the "freedoms" some of us are privileged to have in 2021.
The docuseries brings history to life and makes it palpable to those of us that are not history buffs, but still want to understand the history of African American people in the US.
The 14th doesn't only give liberties to African American's (because in spite of the 14th we still have a long way to go) but ALL PEOPLE no matter their race, creed, color or sexual orientation.
Will Smith as always is incredible in Amend: The Fight for America and does an amazing job carrying the story through history, with a touch of humor 😉
Will is fortunate to be supported by some of the heavy hitters in Hollywood:
Each actor takes on the role of a historical figure and dressed as themselves give a voice to words that can be understood in 2021.
Of course this is another opportunity for Black Hollywood to make a true mark in cinematic art, so I am HERE FOR IT!
African American's writing, directing, & producing this production is beautiful. Our people are finally allowed to make global history in every industry, from fashion & art to now TV & movies; I couldn't be more proud!
Not only giving this a high rating because of the powerhouse actors or the current African American injustice it brings to the fore, but due to the context of the subject (SLAVERY) & because I learned so much more than I ever knew.
---
Trial 4 (2020)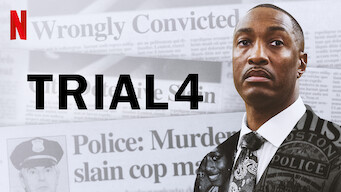 The Netflix algorithm pulled up this gem of a docuseries and boy was I glad it did.
This 8-part series is about the life of Sean Ellis, wrongfully convicted & spent 22 years in prison for killing a Boston police officer.
In the early 90s he went through 3 trials before he was finally convicted of the murder. Due to new evidence he is now out & fighting to be completely exonerated in his 4th Trial.
When preparing notes for this review wanted to point out a moment during cross where Sean Ellis' attorney Rosemary Scapicchio lays into her witness like Joe Pesci in My Cousin Vinny. I was ready for her to say, "OK, I'm done with this guy!" 🤣🤣
This series is PURE SHOCK! You will be outraged by the corruption and evil doings of the Boston Police, DA & other officials.
Again not giving any spoilers here but I will say this is a MUST WATCH for you this weekend.
---
Remember to come back each Thursday at 8:00 pm EST for the latest Helpful Movie & TV Weekly Reviews Really Are Back YES!
*please note this is only a blog post. Click below for other reviews
Join 944 other subscribers