Ladies I am here to tell you to bust out that Thigh Master because Anna Sui's Spring/Summer 2009 collection is all about the thigh high mini dresses and pedal pushers.
The collection was clearly inspired by Spain; even the music was strong and extremely captivating. The rich bold color palette, mixture of patterns and tons of embroidery Anna Sui showed throughout the collection is exactly what you think of when you think of the fashions of Spain.
Anna has always been known as the rock-n-roll designer and this collection did not disappoint. She gave us her familiar haute hippie influences; leather crafted shoulder bags with fringe, flat gladiator sandals, and bangles as far as the eye could see.
Anna mixed in a few sweet pastel floral pieces and ended the collection with 2 black and white bull fighting style bolero jacket with cropped pants suits (ruffled shirts, bow ties and all).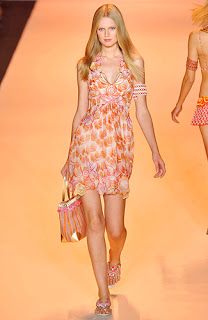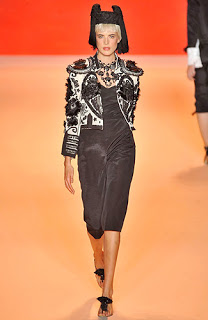 At Anna Sui there was the rarely seen on the runway, smiling models. Models bopped down the catwalk looking happy and playful. Seeing the models so enthused to be wearing the collection was refreshing and kept me engaged the whole time.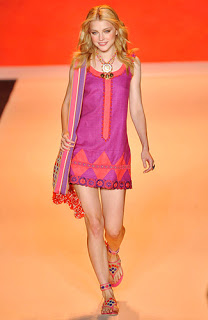 This only being my second Spring/Summer 2009 collection that I've seen leaves me hungry to see what other amazing collections were shown during New York Fashion Week.
AB-FAB FIERCEABULOUS Picks:
No real AB-FAB picks for this collection. I love Anna's collections; they are always there for you to mix in a few ethnic, BoHo, haute hippy, trendy pieces to your everyday wardrobe.
Anna gives you the spice that is needed in every outfit but her shapes are always the basics simple sihouettes so the pictures above are to give you an idea of how you can incorporate Anna Sui into your closet.
Stay Fashionable!