Being a black woman in fashion I have always made sure to not only study my fashion history but to study my Black Fashion history. When I think of black fashions it always reminds me of church fashion shows from the 40's when black people were not allowed at mainstream fashion shows. Instead church members hosted lavish fashion events using designers and models from their congregation and community. The music would bumpin' and the fashions would be fierce.
I have a great understanding of the pioneers of black fashion. Ann Lowe was not only a designer of the Bouvier family at the height of segregation but designed Jacquelyn Bouvier's wedding dress when she married John F. Kennedy (my favorite President).

I even have a deep appreciation for Sean "Diddy" Combs for bringing urban fashion to the masses at a time when Michael Kors was showing luxury. Of course African American musicians have always influenced stage fashions as well as the fashion in popular culture in their times.
For me there is no greater pioneer of black fashion than Eunice W. Johnson. This amazing black woman that was born in Alabama, college educated, and a mother started the Ebony Fashion Fair over 50 years ago.
Eunice Johnson was able to gain access to some of the greatest couture houses of the 60's and was able to sit front row of their fashion shows, which would have been virtually impossible in America. As everyone knows France was the leader in fashion for centuries until the 1990's.
Ms. Johnson actually started the careers of many well known black actors such as Richard Roundtree (that's right – SHAFT – shut your mouth) and other well known African Americans. Eunice brought black models to European designers who snatched them up at a time when they could barely get work in America, most known is Pat Cleveland who began working Ebony Fashion Fair at the age of 15.
For those that don't know Ebony Fashion Fair is a traveling fashion show of luxury and couture designs. It was my privilege and honor to once again attend the Ebony Fashion Fair 2008 Fall Show.
This year I decided to see the show at Strathmore Music Center in Bethesda, MD instead of in DC. Strathmore is a beautiful space but I was surprised at the amount of empty seats (which explains the ease of getting a 4th row center seat a week before the show). Last year at Constitution Hall in DC it was standing room only.
Ebony Fashion Fair show is not like any other fashion show; it is a dramatic event using all black models of every color and size. There was even a full figured model from Maryland.
The emcee of the show not only reveals the designers and gives a description of the garments she keeps you laughing and reacting. The models are more than models; they are silent actors that are choreographed through different scenes so that you get to see the clothes from every angle with drama and flair.
Now the clothes are not the run of the mill fashions that most American women are used to seeing; these are high end couture which were just as over the top as the choreography and commentary.
There were furs, feathers, leathers and knits. There were so many amazing designs that I wrote 3 pages of notes on this 2 hours show. In my opinion I could have gone 2 more hours.
There were designs from Italy, Germany, Japan, Argentina and the Virgin Islands as well as designers from America and France.
A few noted designers included Oscar de la Renta, Anna Sui, Carolina Herrera, Luca Luca, Christian Lacroix, Missoni, Valentino, Vivienne Westwood, Thierry Mugler, Yves St. Laurent, Roberto Cavalli, Ungaro, Givenchy, Issey Miyake, and even accessories from Apple Bottom.
With 3 pages of notes it was too difficult to choose my FIERCABULOUS picks, so instead I have added some pictures of my favorites from the program so that you can get a sense of the designer's and the amazing creations I saw that evening.
AB-FAB Designs FIERCEABULOUS PICKS:
1. This one is my favorite
2. NEED IT – FIERCE!!!
3. Fur on Fur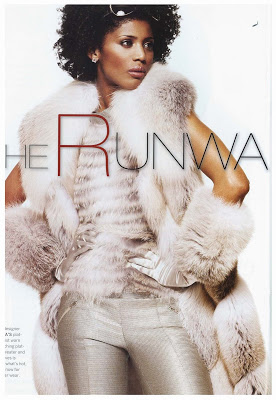 4. Just a little cocktail frock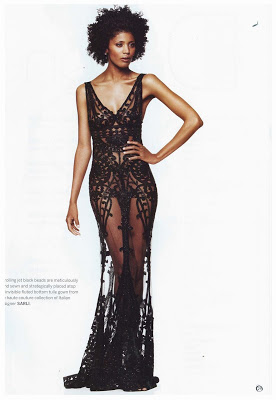 5. As seen on Rachel Zoe's show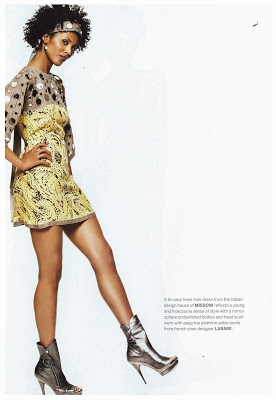 6. Isn't this the most beautiful model you've ever seen – FIERCEABULOUS!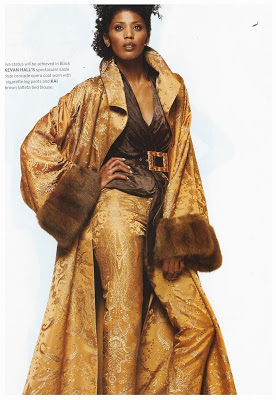 For more information about Ebony Fashion Fair check out their website:
http://www.ebonyfashionfair.com/assembled/history.html

Stay Fashionable!