On the evening of September 18th, 2008 my girlfriend Hila and I arrived at the penthouse, rooftop pool of the Senate Square luxury condos in N.E. Washington.
This luxury venue was where Corjor International hosted a Networking/Fashion Show event.
The backdrop of the Senate Square has a spectacular view of the Washington Monument and from the photo you can see many of the twinkling city lights of D.C.
Hila and I had only a few minutes to talk to some of the models that I met at the Corjor Couture show before the fashion show began.
I should first start by saying that you cannot have Fall/Winter fashions without Hampton's worthy bathing suits; which is exactly what the 3 featured designers showed. What do I mean by Hampton's worthy? I mean luxury swimsuits that are geared to make certain you will be seen in true glamour on your winter vacation.
Although swimsuits at this level of luxury are rarely used to go in the water you can see these collections are completely functional incase some water activities should arise.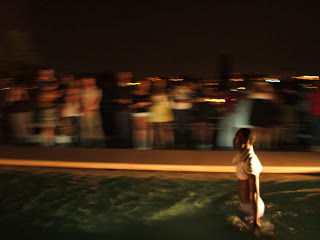 The first designer Annette Williams-Lee only showed 2 beautifully crafted crocheted looks from her up and coming menswear line. This native-Washingtonian designer mixed steel grey metallic yarns to create a crocheted knit tank top which she paired with silver metallic Lycra boy-short cut bottoms. The other look was a short sleeved steel grey metallic crocheted knit t-shirt which was paired with a silver metallic Lycra bikini cut bathing suit bottoms. (Sorry, no photos of these pieces)
This clever designer showed her designs on 2 very dark skinned African American models which really enhanced the detail of her no doubt labor intensive designs. Annette's profile boasts "I am a Contagious Collection…" and I must agree that I look forward to seeing more pieces from this seasoned designer.
The second designer was Stella Bonds. This native Columbian menswear designer turned the standard boy-short and bikini cut menswear bathing suits into beautifully artistic creations by injecting the brilliant colors of South America. There were neon greens, pinks, purples, blues, and oranges; Stella even paired a few of the pieces with colorful headscarves.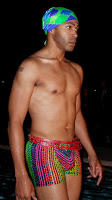 And let me not forget the animal prints.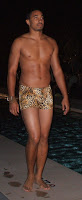 On a side note I would like to say that the male models stayed completely in character and showed the collection beautifully even when having to brave the water of the long lap pool on a 55° late summer night.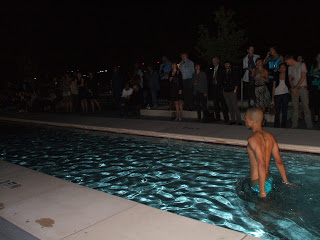 The final designer of the evening was Ean Williams' (shown below ((sorry ladies he is happily married and yes he always dresses that fly))) Corjor Sport collection.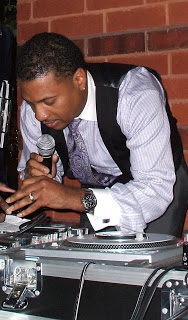 As I said before, luxury bathing suits are all about being seen in glamour and that is exactly what Corjor Sport gave us.
My girlfriend Mona has this joke that she wants to have the life where she can stand in the moonlight with her millionaire man and have a nightgown that blows in the night air. Well if my girlfriend Mona were at this show she would have bought every piece in Ean's collection.
Ean used many of the same fall colors (champagne gold, pumpkin, and black) that he used in is Corjor Couture collection, that he showed at the 4H Club on the first day of DC Fashion Week, but he ingeniously mixed in bright blues, some blue and white, and a few pieces in neon green and red.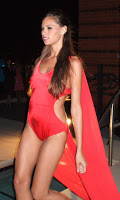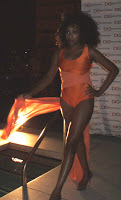 For the ladies there were bikinis and intricately detailed one piece bathing suits that had long chiffon fabric attached to the tops of the shoulder straps (perfect for Mona).
These looks were intertwined with men's bathing suits made of colorful Lycras and luxurious velvets.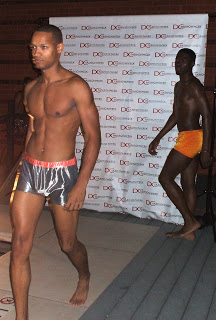 The evening ended with Hila and I having our picture taken in front of the DC Fashion Week backdrop. Aren't we cute?

AB-FAB's FIERCEABULOUS PICKS:
(Let me preface my picks by stating that the other 2 designers were amazing but Corjor Sport was more my style and I felt Ean's collection was more wearable for the American client. )
1. Robin's egg blue sequined Lycra, one piece swimsuit. This spectacular piece was cut high on the leg and had a matching blue chiffon scarf-like detail. This is not the best picture of this bathing suit. You have to go to my H Street Festival blog (DC Fashion Week – Day 3) for the best shot of this mind-blowing creation.
2. Champagne gold Lycra bikini and the champagne gold Lycra one piece with the black leather bow belt. Look how amazing this color looks against these model's skin tone. I am hoping to buy the one piece for my winter vacation.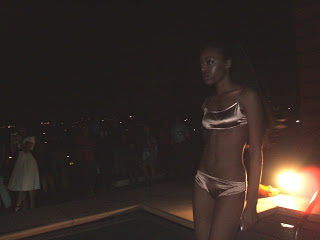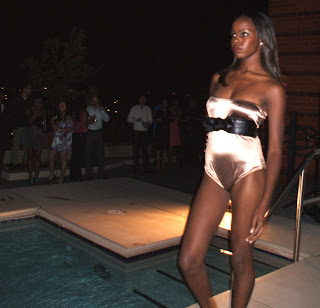 3. White Lycra one piece with a robin's egg blue corset. The thick straps of this piece had the Mona blowing chiffon scarves attached. This is also a terrible shot of this piece but I did my best.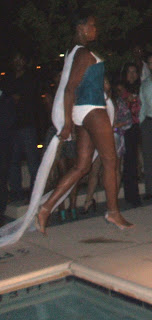 4. Men's black, boy-short cut, swimsuit with a velvet black argyle pattern; TOO SEXY!!!. If I had a man I would buy this swimsuit immediately, just so that I could rub the luxurious fabric. I did my best to photograph the piece but it's tough to photograph black velvet argyle on black at an evening event. The picture below is the same black velvet used in my pick, but it's the bikini cut version without the argyle pattern. FIERCEABULOUS!!!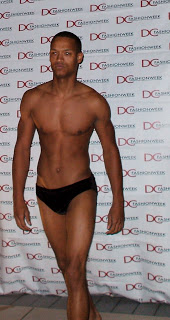 My next blog will be all about the H Street Festival where I resume my make-up artistry duties.
Stay Fashionable!!